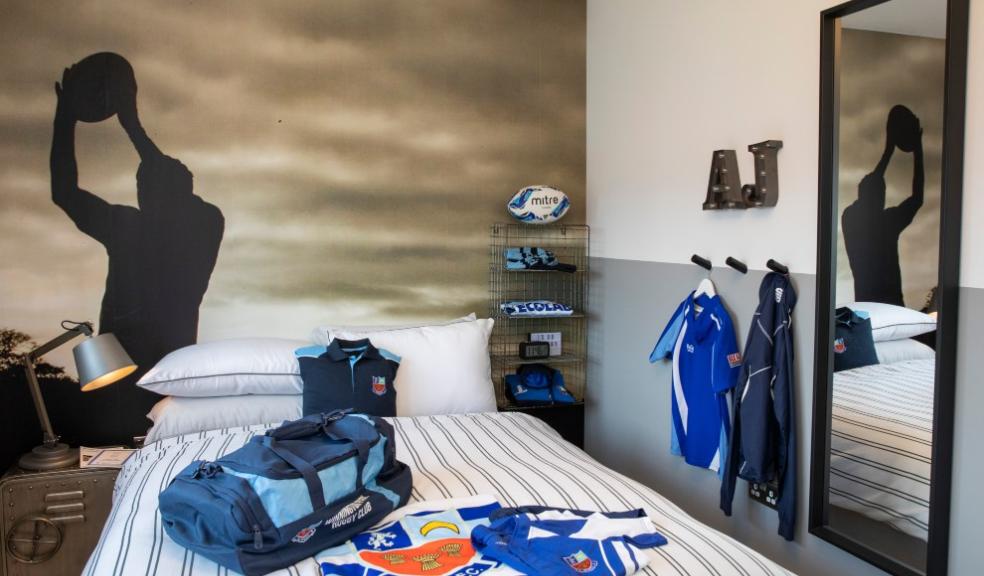 RUGBY CLUB SCORES HOME TOWN SUPPORT FROM ANWYL HOMES
PITCHING the idea of moving to buyers who are sports fans is easy in Winnington – Anwyl Homes has teamed up with Winnington Park Rugby Club
The homebuilder has styled a bedroom in one of its show homes at its popular Winnington Place development with a rugby theme. It sports a feature mural showing a player jumping for the ball and is kitted out with memorabilia from the local club – including a kitbag and kit.
And, if that wasn't enough, Anwyl has lent its support to the club by sponsoring a pitch board.
Tracey Glendinning, from Winnington Park Rugby Club, said: "We are a community club offering rugby coaching from the age of three to adults. We rely on businesses within the community of Northwich to help support our rugby programme and premises. Sponsorship is vital for us and companies such as Anwyl Homes play a pivotal role in our successful community club. Without this support we could not open up coaching opportunities to all."
The club is around half a mile from Winnington Place, a winning development of three and four-bedroom homes.
Kelly Boyd, from Anwyl Homes, pictured with players James Johnson, left and Alex Glendinning, right
Anwyl area sales manager Amy Houlihan said: "Winnington Park Rugby Club is so close to where we're building and plays such an important role in the community, making it a natural choice of us to team up with them and offer our support. Visitors to our Ascot show home have been surprised to see their local team's kit on display – it's a real talking point and demonstrates our commitment to the neighbourhood."
Current prices at Winnington Place are from £235,000 for a three-bedroom semi-detached Bretton, with an Ascot style property, like the one featuring the rugby room, available from £355,995
For those ready to tackle their next move on the housing ladder, Anwyl's homes advisors are available to help buyers find their perfect match and can offer tailored incentives to enable them to kick off a new life in a new home.
If you're looking to score a new home at Winnington Place see www.anwyl.co.uk/winnington or call 01606 601 996.