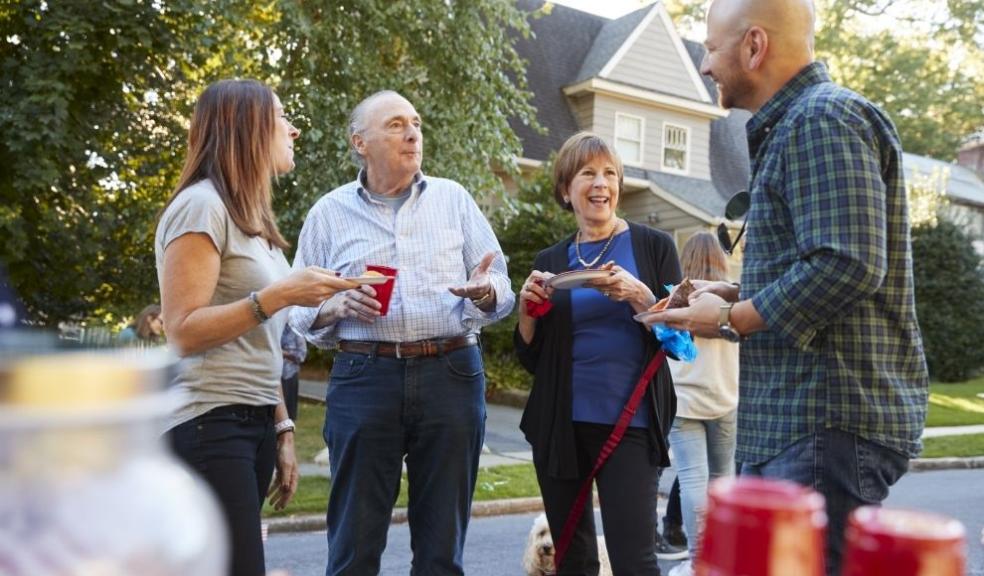 Brits reveal 'lifesaver' neighbours have boosted community bonds during pandemic
- 15% of Brits say neighbours saved their life during pandemic 
- Third of UK insist last year has created strong community spirit 
- Third of residents forced to give financial support to neighbours 
Brits insist that their bonds forged with their neighbours during the pandemic have increased, with 15 per cent of the nation revealing that their community saved their life in the last year. 
Results show that during the pandemic, local communities and major acts of kindness have provided a lifeline to many, with 25 per cent of the UK admitting that their neighbours went above and beyond for them, and 18 per cent revealing that they wouldn't have made it through the tough period without their neighbours. 
The survey, conducted by McCarthy Stone, asked respondents about their experience with neighbours before and during the pandemic, with the findings revealing that Brits offered support to neighbours and put their hands in their pocket during the difficult times. 
'Lifesaver' Brits boosting community 
These acts of selflessness have had a major impact on how people in the UK view their community. Over a third (37%) believe they have a 'strong community spirit', with nearly two thirds (62%) saying that they feel safe with their neighbours. Nearly half (46%), said that they trust their neighbours with a key, and almost a third (31%) of the country insist that their neighbours make them want to stay put forever. 
Acts of kindness from neighbours 
The pandemic has created a difficult set of circumstances for the majority of us, but the neighbourly bond has only strengthened during the tough times. The top words used to describe current neighbours are 'Nice' (39%), 'Polite' (36%) and 'Kind' (29%), however only five per cent said their neighbours were good looking. 
The most common acts of kindness from neighbours, pre and during the pandemic, revealed that over a third (35%) of the nation's neighbours sign for parcels and deliver them, with 22 per cent of neighbours looking after their house when they're away. Nineteen per cent take their bins out, with 12 per cent cleaning communal areas and 12 per cent also watering plants for their neighbours. 
Table for top 10 most common acts of kindness from neighbours
| | |
| --- | --- |
| Acts of kindness from neighbours | Amount  |
| 1. Sign for parcels and deliver them | 35% |
| 2. Look after house while I'm away | 22% |
| 3. Take out my bins for me | 19% |
| 4. Sign for parcel (but don't deliver them) | 17% |
| 5. Clean communal spaces | 12% |
| 6. Water my plants | 12% |
| 7. Pick up my shopping | 10% |
| 8. Walk the dog | 6% |
| 9. Print documents | 5% |
| 10. Pick up children from school | 4% |
Top 5 biggest expenses on neighbours in pandemic 
The survey also showed that more than a third (36%) of the UK spent money on their neighbours during the pandemic.  
The top spending saw an average of £20.86 spent on neighbours' bills, £19.96 on groceries, £19.51 on their rent, £16.19 on presents and £16.17 on car insurance, with these making up the top five biggest expenses from neighbours during the pandemic. 
Table for top 10 neighbours spending during pandemic
| | |
| --- | --- |
| Item paid for by neighbour | Amount |
| 1. Bills | £20.86 |
| 2. Groceries | £19.96 |
| 3. Rent | £19.51 |
| 4. Presents | £16.19 |
| 5. Car Insurance | £16.17 |
| 6. Clothes | £14.59 |
| 7. Car Maintenance/Fuel | £13.61 |
| 8. Mortgage | £13.55 |
| 9. Alcohol | £13.43 |
| 10. Takeaways | £13.26 |
Neighbourly disagreements still common in the community
The survey also uncovered more about the UK's neighbourly trends from before the pandemic, and how they are currently getting along. 
Despite positive gestures taking place during the pandemic, disagreements between neighbours are still common. The results show that nearly third (32%) of Brits admitted they've argued with their neighbour in the period before or during the pandemic, with those UK neighbours who have argued averaging over one row per month. 
The study also reveals that nearly a quarter (22%) of the country have had to spend money on repairing damage to their property or possessions caused at some point before or during the pandemic by their neighbours, with the average amount of damage across Britain costing £48 to repair. 
Glasgow tops the list of best-behaved neighbours who caused only minor damage across the timeline of living next to each other, with repairs costing an average of just £13.69, followed by Newcastle £14.25 and Bristol £18.75. The worst performers are Brighton's neighbours, with damage amounting to £159.06, Norwich £83.34 and Liverpool £69.56. 
Table of top 10 cities for most average damage to property by neighbours
| | |
| --- | --- |
| City | Average cost of damage  |
| 1. Brighton  | £159.06 |
| 2. Norwich | £83.34 |
| 3. Liverpool | £69.56 |
| 4. Leeds | £66.01 |
| 5. Southampton | £65.99 |
| 6. Belfast | £56.95 |
| 7. Birmingham | £53.00 |
| 8. Manchester | £50.83 |
| 9. Edinburgh | £44.54 |
| 10. London | £43.88 |
A spokesperson from McCarthy Stone, said: "I think this survey shows just how important good neighbours are to our wellbeing, especially in a crisis. We have been really proud of the way neighbours in our developments have pulled together to help each other get through the pandemic, showing incredible warmth and community spirit – it has made all the difference. 
"Despite the pandemic, there have been huge numbers of people moving home, whether to more rural areas for more space or taking advantage of the market to move to a bigger property, there are a lot of new faces in these communities at the moment.  
"Neighbours are literally some of the closest and longest relationships we can have in our lives, so it's important to build and maintain a healthy rapport." 
Here are McCarthy Stone's tips for starting and maintaining a good relationship with your neighbour. 
1. Give them a warm welcome – It's the easiest and most natural time to make yourself known to neighbours when they first move in, and this small gesture can go a long way in terms of setting up the relationship in the long run. It can simply be just introducing yourself, a note or even a welcoming gift. 
2. Keep up the communication – It doesn't have to be a regular chat but a simple smile, nod or "hello" could be crucial if you eventually do need to speak to them. It's a good way to gauge if they're open to chatting, but it's also good manners and can help both yours and their mental health if they live alone or have been working from home a lot. 
3. Lend a hand or ask for help – Kind gestures go a long way, especially in the current climate. It can be small like lending someone some tools for the garden or offering to pick up some shopping while you're out. You can always ask them to return the favour when you're away, like watering the plants or putting the bins out. It's always good to build up credit for these acts with your neighbours! 
4. Research your area – There are multiple benefits to making friends in the community, and while we might feel isolated right now, there will soon be more opportunities to visit places at the heart of the community to speak with other locals. Whether that's the pub, your nearest place of worship, down the shops, or at the community centre, there are plenty of places to say "hello".  
5. Use technology – Nowadays there are a number of ways to find out what's going on in your local area, whether that's through local Facebook groups or the app Nextdoor, which can tell you all sorts from bin collection days to where you can buy and sell items. 
The full results and findings of the study can be found here: https://www.mccarthyandstone.co.uk/relationships-with-neighbours-stronger-through-pandemic/